Opportunity Details
Specialty:
Surgery, Oral and Maxillofacial
Location:
Sayre, PA,
Region:
Northeast , Inland Lakes & Streams , Rural
Practice Setting:

Guthrie is a non-profit, physician-led, integrated health care delivery system that serves a large population of people over a wide geographic area. It currently includes three hospitals, 500 physicians and mid-level providers, 32 regional provider offices in 23 communities, home health and home care services, graduate medical education and a research institute.

Its robust Electronic Health Record enables primary and specialty care physicians across the system to quickly gain a comprehensive understanding of patient needs. Guthrie manages more than 1,200,000 patient visits a year.

Location Overview:

In this beautiful area where travelers weave in and out of Pennsylvania and New York and the Susquehanna River meanders by, the quaint valley offers a peaceful backdrop to a series of close-knit communities. Midway between Corning and Binghamton, this area provides close proximity to cities and to the lush Finger Lakes region for weekend relaxation. Nearby colleges, universities and Fortune 500 companies provide employment for spouses, and there is plenty of affordable housing in safe, close-knit communities.
Offer Details
Relocation Paid:
Yes
CME:
14 calendar days with $3,400 allowance per year
Job Description
Guthrie Oral and Maxillofacial Surgery Opportunity, Sayre, PA!
Whether you enjoy the outdoors, theater, museums or a Finger Lakes wine tour, working at Guthrie allows you to indulge your passions. Guthrie Clinic, a non-profit, physician-led, integrated health care delivery system has an opening for a BE/BC Oral and Maxillofacial Surgeon. At Guthrie you can work in an environment that is supportive both professionally and personally.
Practice Highlights:
Busy full-scope practice that focuses on pathology and facial trauma, wisdom teeth, dental implants and pre-prosthetic treatments
Dedicated OR time
Strong internal and external referral base
State-of-the-art facility
Guthrie is a non-profit integrated health system located in north central Pennsylvania and upstate New York, serving patients from a twelve-county service area. Guthrie is a member of the Mayo Clinic Care Network and is the first health system based in Pennsylvania and New York to join this network. Guthrie is comprised of a research institute, home care/hospice, hospitals in Sayre, Pa., Corning, N.Y., Towanda, Pa., Troy, Pa. and Cortland, N.Y., as well as a multi-specialty group practice of more than 325 physicians and 210 advanced practice providers offering 47 specialties through a regional office network providing primary and specialty care in 21 communities in Pennsylvania and New York. In addition, Guthrie offers home medical equipment and respiratory therapy products at seven convenient Med Supply Depot locations. Guthrie provides a wide range of services and programs to enhance the health and well-being of those it serves.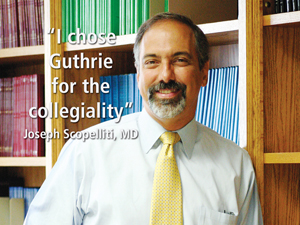 Community Overview
Guthrie's main campus in Sayre is situated in a lush valley at the confluence of the Susquehanna and Chemung Rivers in north-central Pennsylvania.
Located just a few miles from the New York border, the Sayre area is proximate to the major cities of the northeast: Philadelphia, New York City, Buffalo, Rochester and Niagara Falls--all within 3-1/2 hours.
The area is renowned for its maple products (syrup, sugar, candy) wine, dairy, apple and corn production.
30 miles south of the Finger Lake Region of New York State: Lakes, waterfalls, wineries and amazing 4-season recreation--1 hour from Grand Canyon of Pennsylvania.
Easy driving distance to most major cities in the Northeast.
Excellent schools and affordable housing; low cost-of-living. Safe, family-friendly community.
Choice to live and/or play in several different communities:
The Valley: Sayre and Athens, PA and Waverly, NY
Elmira, NY (20 minutes from main campus)
Corning, NY (40 minutes from main campus): international headquarters to Corning, Inc.
Vestal/Binghamton, NY (30 minutes from main campus)
Ithaca, NY (35 minutes north of main campus); home to Cornell University
Three regional airports within 40 minutes (of main campus in Sayre) with easy connections to New York City, Washington DC, Boston, Detroit, Pittsburgh, Philadelphia, and Orlando. In addition, two international airports are approximately 2 hours away.
Elmira/Corning Regional Airport
Binghamton Regional Airport
Ithaca/Tompkins Regional Airport
Greater Rochester International Airport
Albany International Airport
Client Links
| | |
| --- | --- |
| | There are no Client Links to display. |
| | |
Hospital Overview
A 254-bed tertiary care referral center and teaching hospital located in Sayre, Pennsylvania, Guthrie Robert Packer Hospital is the recipient of numerous national awards for the high quality of care it provides to patients.
The hospital is a Regional Level II Trauma Center, accredited by the Pennsylvania Trauma Systems Foundation and is served by Guthrie Air, a regional aeromedical helicopter program.
Guthrie Robert Packer Hospital offers a full range of diagnostic, medical and surgical services, including specialized centers offering the region's most comprehensive programs and services, including access to leading clinical trials. Established in 1885, Robert Packer Hospital continues its pioneering tradition of offering state-of-the-art services.
Guthrie Robert Packer Hospital offers the following premier Guthrie specialty programs:
Guthrie Cancer Center

Guthrie Cardiovascular Center

Guthrie Orthopaedic Services

Guthrie Surgical Services

Contact Information
Contact:
Shannon Anderson, Physician Recruiter
Guthrie Clinic
One Guthrie Square
Sayre, PA 18840
Email:
anderson_shannon@guthrie.org
Phone:
(570) 887-6490
Practice Information
Year Established:
1910
Number of physicians in group:
500 Physicians and Advanced Practice Providers
History of group / practice:

In 1910 Dr. Donald Guthrie brought the multi-specialty group practice model to Sayre, PA, from the Mayo Clinic where he performed his surgical residency. The success of this organization is based on the three values that Dr. Guthrie set forth: patient centeredness, teamwork and excellence. These core values inform all our endeavors as we pursue our vision of improving health through clinical excellence and compassion; every person, every time.

Philosophy of the group:

Guthrie President Joseph Scopelliti chose Guthrie for the collegiality, "Because the environment of mutual respect and trust was so unique and attractive to me that I had to stay." In the complex and chaotic business of healthcare, the real strength of a physician-led group practice model like Guthrie's is the ability to remove the complexity and minimize obstacles. This way, physicians and their support staff can provide the very best care for patients with the greatest degree of ease and efficiency.

Practice Description :

This individual will work closely with colleagues in otolaryngology, plastic surgery, and dentistry to help meet the growing demands for oral surgery in the communities we serve.

Quality of patient care is enhanced through a historically cooperative relationship with the medical sections with which we most often co-manage patient care. Over the nearly 70 years that Dental Services have been provided at the Guthrie Clinic, Physicians and Dentists have maintained a working relationship that not only provides for good patient care, but also for a rewarding clinical environment.