Opportunity Details
Specialty:
Nursing - RN, General
Other Specialties Considered:
Nursing - RN, Med/Surg
Certified Medical Assistant (CMA)
Nursing - Licensed Practical Nurse, General
Certified Nurse Assistant
Nursing - RN, ICU
Nursing - RN, Psychiatric
Nursing - RN, Surgery Care
Nursing - RN, Acute Care
Nursing - RN, Non-Acute Care
Certified Nurse Assistant - Behavioral Health
Nursing - RN, Progressive Care/Step Down
Therapist - Psychiatric Nurse
1. All Nursing

Location:
Indianapolis, IN, USA
J1/H1B Visa?
No
Job Description
Veteran Health Indiana - Roudebush VA Medical Center, Indianapolis, is seeking innovative, experienced, dedicated Nurses to become part of our VA Healthcare Team!
This is an open and continuous posting in which you will identify the areas in which you are interested in working. Opportunities may include all nursing positions: LPN/LVN, Registered Nurse, Nurse Anesthetist (CRNA), & APNs -CNS/NP, across all Veteran Health Indiana departments/specialties: inpatient, outpatient, and community care areas, to provide care to our Nation's Veterans.
This announcement covers multiple departments/specialties across the Veteran Health Indiana healthcare system. Qualified candidates will be referred to the appropriate hiring official(s) for consideration, based on the department(s)/specialties YOU identify in the NOTE section at the bottom of the following Candidate Registration Page (you will be taken to that page once you click "Apply Online Now").
The specific departments/areas of specialty for these opportunities may inlcude, but are not limited to:
Mental Health Nursing (inpatient or outpatient)
Acute Care/Medical-Surgical
ICU (Critical Care)
Progressive Care/Step-Care
Emergency Department
Surgery (Operating Room)
Perioperative Care (PACU/Same-Day Surgery)
Procedural Specialties (Cath/EP Lab, GI, IR, Dialysis, Cancer Care-Infusion Clinic, Vascular Access Team)
Specialty Clinics
Primary Care: Patient Aligned Care Team (PACT)
Primary Care: Mobile Ambulatory Care (MAC) Team
Community Based Outpatient Care Clinics (various locations throughout Indiana)
Quality & Safety Nursing (Infection Control, Safe Patient Handling, Quality Review/Data Reporting)
Home Based Primary Care
Care in the Community (Community Consults)
... as well as other departments/specialties, based on current/future vacancies and facility needs.
Nurses interested in a VA Healthcare Career are encouraged to act on this opportunity. To do so, simply...
1. Click "Apply Online Now!"
2. Complete all fields on the Candidate Registration Form. [*Note: Only Advanced Practice Nurses (NP/CNS) should select the "PROVIDER" option. All other Nurses (RNs and LPN/LVNs) select the "ALLIED HEALTH" option.] Select your specialty from drop-down list, and then use the "NOTE" free-text box at bottom of page to indicate your employment preferences, regarding which department(s), specialties, position(s), and/or location(s) you are interested in being considered for, as well as the type of employment/schedule you are seeking [i.e. fulltime/part-time/intermittent (per-diem), and permanent/temporary/term(<1yr)/fee-basis(contract, as needed)]. Options regarding appointment types and scheduling flexibility may vary by occupation/department/position, based on facility staffing needs.
3. Be sure to *UPLOAD your current and comprehensive RESUME/C.V!*
This information will be used by VA Healthcare Recruiters to match qualified Nurses with Veteran Health Indiana career opportunities that may be aviailable, both presently and in the future.
Job Requirements
Veteran Health Indiana may have opportunities for employment in inpatient, outpatient, or specialty areas, to provide care to our Nation's Veterans. Incumbents will provide prescribed medical treatment and healthcare services to ill and injured veterans. Duties will vary based on the scope and functional responsibilities of the occupation and position to which a candidate is appointed.
All VA Healthcare professionals are expected to advocate and collaborate with interdisciplinary care teams to facilitate positive patient outcomes; providing a full range of healthcare services to patients with a variety of physical and/or psychological needs, and are accountable for meeting and maintaining the qualification standards and functional expectations of their appointed occupation, position, and grade.
Due to the broad nature of this announcement... appointment types (i.e. permanent, term, temporary, intermittent, etc.), status (i.e. full-time, part-time, intermittent, fee-bais), schedules, benefits, and additional specifics may vary based on the availability of opportunities, agency needs, and candidate occupation, qualifications, and availability.
Since this announcement covers multiple services, departments, and locations across Veteran Health Indiana, eligible candidates will be referred based on specified candidate preferences and agency staffing needs, both current and future.
Work Schedule: Work schedules will vary based upon the current vacancy and the needs of the Service.
Preferred Experience: Varies per department/specialty; however, minimum 1 year of licensed nursing experience, in a specialty similar to that which you are applying is preferred.
Pay Grade: Determinations will be based on each candidate's particular qualifications, education, and experience to determine the appropriate Grade and level within a grade.
Conditions of Employment:
You must be a U.S. Citizen to apply for this job
Designated and/or random drug testing may be required, basedon occupation/position
Selective Service Registration is required for males born after 12/31/1959
You may be required to serve a probationary period
Subject to a background/security investigation
Must be proficient in written and spoken English
Selected applicants will be required to complete an online onboarding process
Must pass pre-employment physical examination
IMPORTANT: If determined to be eligible for further consideration, based on pre-liminary screening of qualifications and experience, additional application and required documents for Fedaral Employment must be completed and all information will be verified prior to appointment. At such time, transcripts must be submitted if you are basing all or part of your qualifications on education. Only education or degrees recognized by the U.S. Department of Education from accredited colleges, universities, schools, or institutions may be used to qualify for Federal employment.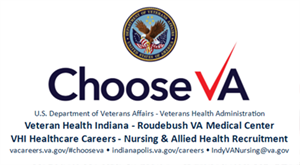 Practice Information
Practice Name:
Veteran Health Indiana - Roudebush VA Medical Center - Indianapolis, IN
Practice Description :

Richard L. Roudebush VA Medical Center (VAMC) is the flagship medical center for Veteran Health Indiana (VHI), the U.S. Department of Veterans Affairs (VA) healthcare system serving Veterans throughout Indiana. Located in downtown Indianapolis, the Roudebush VAMC is a tertiary care facility classified as a Clinical Referral Level 1a high-complexity healthcare facility. As a major interdisciplinary teaching hospital, the RLR VAMC provides a myriad of clinical learning opportunities, internships, and residency experiences for medical, nursing, pharmacy, and other health professions trainees, integrating state-of-the-art technology, simulation labs, and innovative medical research.

Veteran Health Indiana operates community clinics in Bloomington, Columbus, Crane, Indianapolis West, Martinsville, Shelbyville, Terre Haute, and West Lafayette. A Veteran Wellness Center is located inside the nation's only Veteran-centric YMCA in northwest Indianapolis, and two shared clinics are operated with the Department of Defense. New community clinic construction is underway in Brownsburg, Terre Haute, and Lafayette with a new clinic planned for Lawrence. Community-based programs conduct suicide prevention, Veteran justice outreach, and homebased primary care and mental health programs, and a newly built, 50-bed homeless residential treatment facility is operated in Lawrence. Veteran Health Indiana is a leader in providing convenient care to Veterans and offers a wide variety of specialty appointments through cutting-edge telehealth technology.

A VA Healthcare Career offers a wealth of benefits that simply cannot be beat! The VA invests in employees, with numerous opportunities for ongoing professional growth and development, continuous training, and financial support to further your education through scholarships for advanced degrees. VA employees enjoy work-life balance, with generous sick and vacation leave; 10 paid Federal holidays; a competitive locality-based pay scales with raises, Cost of Living Adjustments, and opportunities for promotion.

If you've ever wanted to move across the country but don't want to have to start over from scratch, the VA is the only organization in the US that can provide employees with the freedom to relocate to another VA facility anywhere else, with just one active, unrestricted license from any state. That's one license, 50 states, and over 1,200 facilities to choose from! With the VA you can seek to transfer within the Agency to any other VA location—with no loss of benefits, forfeiture of vacation/sick time, no changing your insurance plans, or having to bother with rolling over a 401k! So, whether you're missing family "back home," you've always wanted to live by the beach, or if life just calls for a change of scenery… a career with the Department of Veterans Affairs (VA) can provide that freedom and opportunity!

To learn more, about VA Careers and Benefits, visit: www.vacareers.va.gov