Opportunity Details
Specialty:
Anesthesiology, General
Location: Get Map
Sayre, PA, USA
Region:
Northeast , Inland Lakes & Streams , Rural
Practice Setting:

Guthrie is a non-profit, physician-led, integrated health care delivery system that serves a large population of people over a wide geographic area. It currently includes four hospitals, 500 physicians and advanced practice providers, 32 regional provider offices in 23 communities, home health and home care services, graduate medical education and a research institute.

Its robust Electronic Health Record enables primary and specialty care physicians across the system to quickly gain a comprehensive understanding of patient needs. Guthrie manages more than 1,200,000 patient visits a year.

Location Overview:

In this beautiful area where travelers weave in and out of Pennsylvania and New York and the Susquehanna River meanders by, the quaint valley offers a peaceful backdrop to a series of close-knit communities. Midway between Corning and Binghamton, this area provides close proximity to cities and to the lush Finger Lakes region for weekend relaxation. Nearby colleges, universities and Fortune 500 companies provide employment for spouses, and there is plenty of affordable housing in safe, close-knit communities.
Offer Details
Other Benefits:

When you join Guthrie, you will receive the kind of generous benefits that you would expect from a first rate healthcare organization. What you may not expect, however, are the components that set Guthrie apart from the rest. Guthrie is a financially stable organization that utilizes teaming at every level within the organization. Clinical and business acumen are teamed, and we have a Physician Development Program where our goal is to help you grow and develop throughout your career. You can earn credits toward your MHA or earn your Six Sigma Green Belt certification through classes offered here at Guthrie at no cost to you.

We respect the additional cost of joining a new practice, and we try to relieve that burden by presenting you with an added welcome check within your first week here, in addition to paying your relocation in full. We have physician income protection in place while you develop your practice, and many departments within the organization partner with you to help you develop a strong practice. Additionally, we have our own risk retention group that addresses patient concerns immediately and makes decisions right away for physician peace of mind. It is these extra benefits, among others, that set Guthrie apart as a premier healthcare organization where physicians enjoy a collegial atmosphere of mutual trust and respect.
Job Description
Guthrie Anesthesiology Opportunity, Sayre, PA.
Whether you enjoy the outdoors, theater, museums or a Finger Lakes wine tour, working at Guthrie allows you to indulge your passions.
Guthrie Clinic, a non-profit, physician-led, integrated health care delivery system has an opening for a BE/BC Anesthesiologist. At Guthrie you can work in an environment that is supportive both professionally and personally.
Practice Highlights:
Join a collegial group of 14 Anesthesiologists and 22 CRNAs in a very friendly operating room setting.

Practice in 18 state-of-the-art operating rooms.

Anesthesia Care Team Model used.

Teaching opportunities with regular rotations of residents and medical students.

40% physician cases and 60% medically directing CRNAs.

Anesthesia Department manages O.R. schedule providing the necessary structure for a smooth, efficient work day.

Robust EHR (EPIC) used in all clinical areas including operating room.

Anesthesia techs available to assist in procedures.
Guthrie is a non-profit integrated health system located in north central Pennsylvania and upstate New York, serving patients from a twelve-county service area. Guthrie is a member of the Mayo Clinic Care Network and is the first health system based in Pennsylvania and New York to join this network. Guthrie is comprised of a research institute, home care/hospice, hospitals in Sayre, Pa., Corning, N.Y., Towanda, Pa., Troy, Pa. and Cortland, N.Y., as well as a multi-specialty group practice of more than 325 physicians and 210 advanced practice providers offering 47 specialties through a regional office network providing primary and specialty care in 21 communities in Pennsylvania and New York. In addition, Guthrie offers home medical equipment and respiratory therapy products at seven convenient Med Supply Depot locations. Guthrie provides a wide range of services and programs to enhance the health and well-being of those it serves.
Client Overview
At Guthrie, we understand the magnitude of your decision regarding where to practice medicine and the impact that decision has on both the advancement of your clinical career and your personal life. Our goal is to ensure the right fit for us both. We believe that by sharing information and being forthright about goals and expectations, we will reach a mutually rewarding conclusion.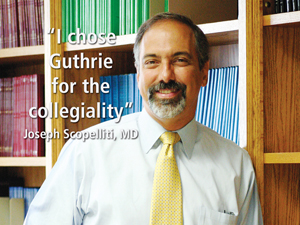 Community Overview
Life in Guthrie's expansive service area is bursting with exhilaration. From the uphills to the downhills, the Finger Lakes Wine Country to the mountains, there's an unforgettable ride waiting for you. Like sports? See your favorite collegiate and professional teams and cheer for new ones. Unexpected cultural gems beckon at your back door.
Myriad career opportunities for spouses abound, at Fortune 500 companies and at leading technological and educational institutions. And when only the city will do, Boston, New York, Philadelphia and D.C. can be reached in just a quick trip. Discover the innumerable rewards of life in the Twin Tiers.
Hospital Overview
A 254-bed tertiary care referral center and teaching hospital located in Sayre, Pennsylvania, Guthrie Robert Packer Hospital is the recipient of numerous national awards for the high quality of care it provides to patients.
The hospital is a Regional Level II Trauma Center, accredited by the Pennsylvania Trauma Systems Foundation and is served by Guthrie Air, a regional aeromedical helicopter program.
Guthrie Robert Packer Hospital offers a full range of diagnostic, medical and surgical services, including specialized centers offering the region's most comprehensive programs and services, including access to leading clinical trials. Established in 1885, Robert Packer Hospital continues its pioneering tradition of offering state-of-the-art services.
Guthrie Robert Packer Hospital offers the following premier Guthrie specialty programs:
Guthrie Cancer Center

Guthrie Cardiovascular Center

Guthrie Orthopaedic Services

Guthrie Surgical Services

Contact Information
Contact:
Dane Kinsman, Physician Recruiter
Guthrie Medical Group
One Guthrie Square
Sayre, PA
Email:
dane.kinsman@guthrie.org
Phone:
(570) 887-6690
Practice Information
Practice Name:
Guthrie
Year Established:
1910
Number of physicians in group:
500 Physicians and Advanced Practice Providers
History of group / practice:

In 1910 Dr. Donald Guthrie brought the multi-specialty group practice model to Sayre, PA, from the Mayo Clinic where he performed his surgical residency. The success of this organization is based on the three values that Dr. Guthrie set forth: patient centeredness, teamwork and excellence. These core values inform all our endeavors as we pursue our vision of improving health through clinical excellence and compassion; every person, every time.

Philosophy of the group:

Guthrie President Joseph Scopelliti chose Guthrie for the collegiality, "Because the environment of mutual respect and trust was so unique and attractive to me that I had to stay." In the complex and chaotic business of healthcare, the real strength of a physician-led group practice model like Guthrie's is the ability to remove the complexity and minimize obstacles. This way, physicians and their support staff can provide the very best care for patients with the greatest degree of ease and efficiency.

Practice Description :

Guthrie's group practice is collegial, collaborative and compassionate. Our providers share a vision that is grounded in patient centeredness, teamwork and excellence.

Guthrie offers distinct advantages to providers through its integrated model that is already poised to thrive in the changing healthcare landscape. With its physician led, patient centered, research driven culture, Guthrie advances the quality of care and the level of service to patients. Its financial strength, established patient volumes and commitment to staff development and success bode well for the long-term solvency and robust future of the organization.