Opportunity Details
Posted Start Date:
NEGOTIABLE
Specialty:
Psychiatry, Child and Adolescent
Location:
Roanoke, VA, USA
Job Position Code:
FY19 Roanoke
Location Overview:

Carilion Roanoke Memorial Hospital is located 2 miles from Downtown Roanoke, Virginia, at the foot of Mill Mountain which is situated on the Blue Ridge Parkway.
Offer Details
Income Details:

Generous base salary augmented with a substantial bonus for quality. Additional compensation for exceeding productivity targets.

Relocation Paid:
ALLOWANCE
Vacation:
YES
CME:
YES
Other Benefits:

Health/Vision with Wellness Incentives and Pharmacy
Dental
Life Insurance
Disability
Retirement Savings Plans - 403(b) and Deferred Compensation
Defined benefit pension plan
PAID malpractice and tail
Job Description
Faculty Position - Virginia Tech Carilion School of Medicine and Carilion Clinic, a physician led multispeciality academic healthcare organization with over 700 physicians, is seeking an ABPN BC Child and Adolescent Psychiatrist with the ability to obtain an unrestricted license to practice medicine in Virginia. This inpatient/outpatient faculty position is associated with Carilion Roanoke Memorial Hospital, a 700-bed teaching/tertiary referral center with 12 acute child and adolescent psychiatric beds. Responsibilities include direct clinical services, teaching medical students, supervising residents and fellows, and integrating research with clinical practice. There are opportunities for research collaboration with world-renowned neuroscientists at the Virginia Tech Carilion School of Medicine and Fralin Biomedical Research Institute. Call coverage is shared with 5 Child & Adolescent Psychiatrists.
The Virginia Tech Carilion (VTC) Department of Psychiatry and Behavioral Medicine is a strong and growing presence in regional healthcare. Our Department is based in Roanoke Virginia and has clinical, educational, and research sites throughout the region. Our Faculty are based in Roanoke at the Carilion Clinic (a Top 100 Hospital; https://www.carilionclinic.org/ ), in Radford at the Carilion New River Valley Hospital, at the Salem VAMC, and at the Catawba Hospital. We are part of the VTC School of Medicine (http://medicine.vtc.vt.edu/about/), one of the newest and most innovative medical schools in the nation. We work closely with the VTC Research Institute (http://research.vtc.vt.edu/about/), headed by the neuroscientist Michael Friedlander PhD, that has over $70 Million of current funding. The Department is focused on the extensive development and implementation of patient-centered research utilizing measurement-based care.
Equal Opportunity Employer: Minorities/Females/Protected Veterans/Individuals with Disabilities/Sexual Orientation/Gender Identity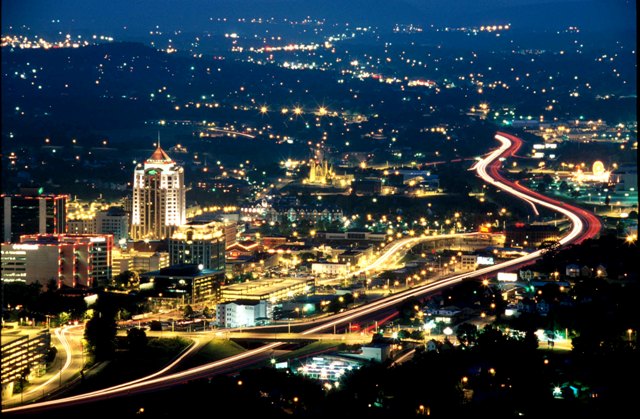 Community Overview
The Roanoke Valley is a metropolitan area of more than 300,000, nestled in the heart of the Blue Ridge Mountains. Roanoke has amenities that you'd expect from a dynamic urban center, without losing the charming feeling of a smaller place. Expansion Management named Roanoke Valley one of its Five-Start Communities for quality of life. The ranking is based on a reasonable cost of living, affordable housing, low crime, excellent transportation access, good public schools, proximity to community colleges and universities, and educated workforce and low taxes.
Mild weather and four seasons
Bike the Blue Ridge Parkway and hike the legendary Appalachian Trail
Boating, camping, swimming at Smith Mountain Lake, 500 miles of shoreline
Theater, symphony, ballet, opera, fine arts, and museums
Two hours to ski resorts, with chalets or five-star lodging
US Department of Education has recognized Roanoke Valley Schools for being among the nation's best.
Roanoke County, Roanoke City and Salem City school systems have Advanced Placement classes and the international Baccaulareate program.
Nationally ranked & internationally acclaimed colleges and universities
The National Civic League named Roanoke an All-American City six times
View Community Profile
Community Links
Hospital Overview
One of the largest hospitals in the state, Carilion Roanoke Memorial Hospital (CRMH) is a 703-bed hospital with an additional 60-bed Neonatal Intensive Care Unit. The facility recently completed a large expansion project, adding a new Emergency Department, Labor and Delivery unit and the Carilion Clinic Children's Hospital complete with a Pediatric Emergency Room. Now in it's second century of providing premiere healthcare services, CRMH also features a Level I trauma center. In addition to offering high-tech services, the hospital is home to 24 Graduate Medical Education Programs affiliated with Virginia Tech Carilion School of Medicine, University of Virginia and Virginia College of Osteopathic Medicine. Patients have access to nearby specialty clinics, family medical centers, and a host of personalized treatment options, making this the region's most comprehensive group of healthcare providers.
Hospital Links

Contact Information
Contact:
Amy Marsh, Physician Recruiter
Carilion Clinic
POB 40032
Roanoke, VA 24022 - 32
Email:
amsilcox@carilionclinic.org
Phone:
(540) 224-5187
Fax:
(540) 983-1169