Opportunity Details
Specialty:
Family Medicine, without OB
Location:
Troutville, VA, USA
Job Position Code:
Blue Ridge FM (FY19)
Location Overview:

Surrounded by the majestic beauty of the Blue Ridge Mountains, Botetourt County offers outdoor adventure along the Blue Ridge Parkway, National Forests, James River and 75 miles of the Appalachian Trail. From American history to unmatched natural beauty, Botetourt County has something for everyone.
Offer Details
Incentive Pay:
Yes, two tier bonus plan
Student Loan Forgiveness:

Yes, Available

Partnership Potential:
Carilion Employed Physician
Relocation Paid:
Yes, Available
Vacation:
20 Days
CME:
5 Days plus allowance
Other Benefits:

Health/Dental/Vision
Life
Disability
Defined benefits pension plan
403B
Paid Malpractice and Tail
Job Description
Carilion Family Medicine Parkway Physicians- Blue Ridge has an opportunity available for an ABMS/AOA- BE/BC family physician to join their well-established outpatient-only family medicine group of 3 physicians and 1 physician assistant. Physicians practice full scope family medicine excluding OB and inpatient and patients enjoy digital x-ray and basic lab testing on site. Mammography and bone density testing are available at neighboring practices along with sub-specialty services offered through Carilion Roanoke Memorial Hospital, a Level I Trauma Center, which is conveniently located 15 miles from the practice. The office utilizes electronic medical records (EPIC) and centralized patient registration and billing. Physicians enjoy working M-F office hours with weekend hour rotations, Saturday 9-11.
Botetourt County is filled with rolling hills, miles of hiking trails and streams, historic town and beautiful countryside all within majestic mountain backdrops. The area offers a quality lifestyle in a beautiful setting with excellent schools and affordable homes in a safe community. http://botetourtva.gov/
Carilion Clinic is the largest not-for-profit integrated health system serving nearly one million people in Western Virginia, with seven hospitals, 220+ physician practice locations, and 24 GME programs. This network of 680+ multi-specialty physicians in over 70 specialties offers Carilion physicians faster access to patient information and history with a sophisticated, fully integrated electronic medical record system (EPIC) and excellent access to subspecialty consultation. Our medical home approach to primary care lets you focus your energy on the highest risk patients while the electronic medical record enables seamless coordination with Carilion's specialist.
Minimum Qualifications:
ABMS/AOA-BC/BE in Family Medicine, with plan in place to sit for Boards
Eligible for unrestricted Virginia medical license and DEA
Team player, highly motivated, excellent communication skills
Graduating residents encouraged to apply
Equal Opportunity Employer: Minorities/Females/Protected Veterans/Individuals with Disabilities/Sexual Orientation/Gender Identity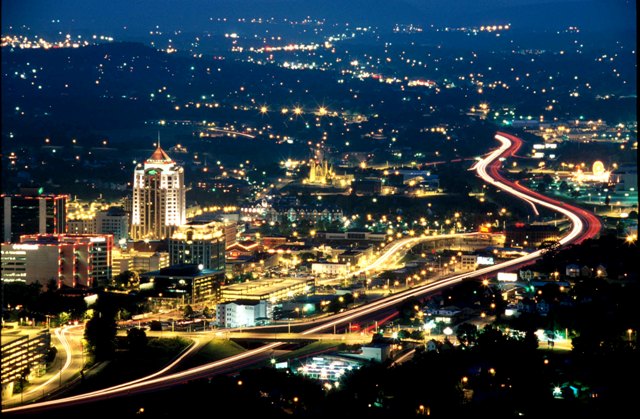 Community Overview
The Roanoke Valley is a metropolitan area of more than 300,000, nestled in the heart of the Blue Ridge Mountains. Roanoke has amenities that you'd expect from a dynamic urban center, without losing the charming feeling of a smaller place. Expansion Management named Roanoke Valley one of its Five-Start Communities for quality of life. The ranking is based on a reasonable cost of living, affordable housing, low crime, excellent transportation access, good public schools, proximity to community colleges and universities, and educated workforce and low taxes.
Mild weather and four seasons
Bike the Blue Ridge Parkway and hike the legendary Appalachian Trail
Boating, camping, swimming at Smith Mountain Lake, 500 miles of shoreline
Theater, symphony, ballet, opera, fine arts, and museums
Two hours to ski resorts, with chalets or five-star lodging
US Department of Education has recognized Roanoke Valley Schools for being among the nation's best.
Roanoke County, Roanoke City and Salem City school systems have Advanced Placement classes and the international Baccaulareate program.
Nationally ranked & internationally acclaimed colleges and universities
The National Civic League named Roanoke an All-American City six times
View Community Profile
Community Links
Hospital Overview
One of the largest hospitals in the state, Carilion Roanoke Memorial Hospital (CRMH) is a 703-bed hospital with an additional 60-bed Neonatal Intensive Care Unit. The facility recently completed a large expansion project, adding a new Emergency Department, Labor and Delivery unit and the Carilion Clinic Children's Hospital complete with a Pediatric Emergency Room. Now in it's second century of providing premiere healthcare services, CRMH also features a Level I trauma center. In addition to offering high-tech services, the hospital is home to 24 Graduate Medical Education Programs affiliated with Virginia Tech Carilion School of Medicine, University of Virginia and Virginia College of Osteopathic Medicine. Patients have access to nearby specialty clinics, family medical centers, and a host of personalized treatment options, making this the region's most comprehensive group of healthcare providers.
View Hospital Profile
Hospital Links

Contact Information
Contact:
Amy Marsh, Physician Recruiter
Carilion Clinic
POB 40032
Roanoke, VA 24022 - 32
Email:
amsilcox@carilionclinic.org
Phone:
(540) 224-5187
Fax:
(540) 983-1169